03
May
An Outdoor Cinema, Perfect way to Relax After Time Spent Looking at Istanbul Property
When you are looking to buy Istanbul property, you may have a few questions on your 'find out about' list. For instance, do you like the cinema? Want to know you can see the latest films in your own language? Rest assured in Istanbul all the latest films are available and you can choose to view originals or subtitled films. There is a range of excellent cinemas to choose from and each area of Istanbul has a selection, they are often found in the Malls so parking is never a problem. So where ever you buy Istanbul property you can be assured your viewing pleasure will not be diminished. In fact, it might even be improved as most of the Istanbul cinemas offer the highest standards in comfort and presentation. Do not be put off by sizeِ some of the smaller cinemas, like CinemaPink at Demirören İstiklal. This cinema has the wonderful 'lazy' relax seats, where you can really stretch your legs and really make you feel like you are in your own home. What you might not find in your Istanbul property though is the 3D surround sound and Sony 4K cinema.
Cinecity Trio - 3D Films Outside!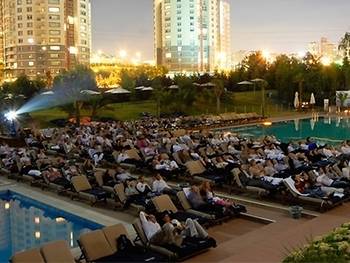 Don't fancy being inside in the summer months? Well, even though all cinemas have air conditioning, it is rather nice on a balmy summer evening to be outside and Istanbul offers a number of choices for film lovers with their open air cinemas. Choices include:
Büyükada Lale - on the largest of the Prince Islands
Kozyatağı Bonus Premium Cinecity – in Kadiköy. What could be nicer than lying around a pool watching a film?
Kulüp- Z, Zekeriyaköy – another pool side viewing, perfect for the hot summer nights.
There are many more open air cinemas to choose from in and around Istanbul, details of which can be found online. Istanbul also hosts many film festivals throughout the year and are well worth keeping an eye open for them. Istanbul often hosts premieres, this month, after being the opening film of 2016's Cannes Festival, Woody Allen's film, "Café Society" premiered at the REXX cinema in Kadiköy. So wherever you buy Istanbul property you can be sure whatever genre of film you like, you will be sure to find it in an excellent Istanbul cinema.